அருள்மிகு ஸ்வயம்பு ஸ்ரீ ராஜ பாலமுருகன் துணை
"ஓம் தத்புருஷாய வித்மஹே ஸ்வயம்பிரகாஸாய தீமஹி
தந்நோ பாலமுருக ப்ரசோதயாத் "
Your browser does not support the audio element.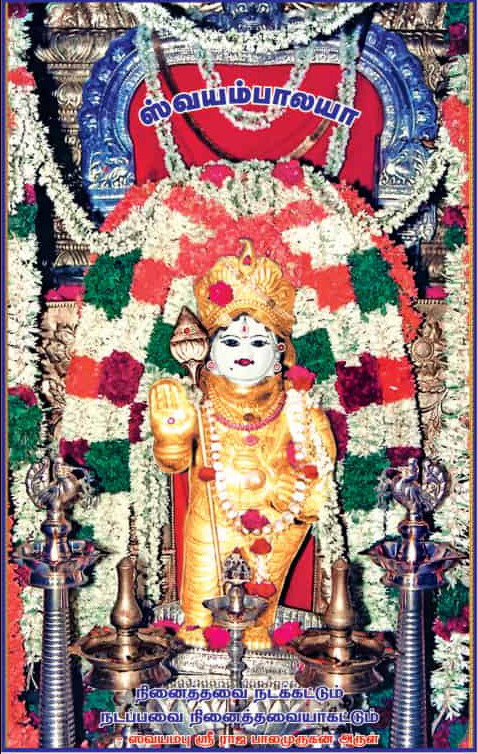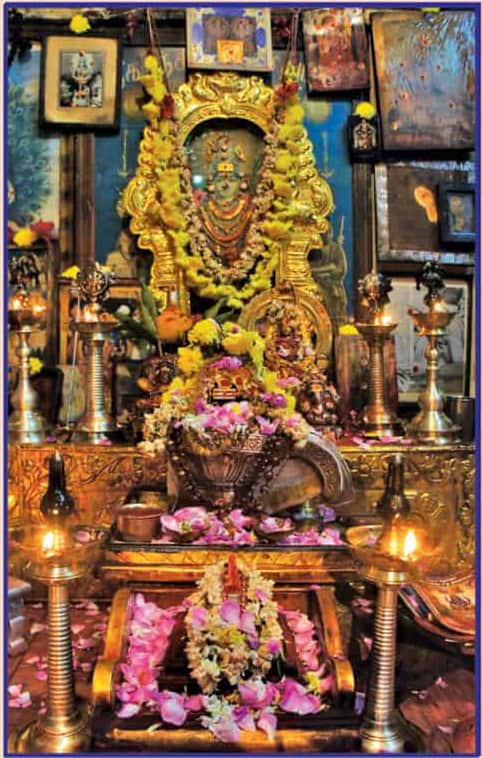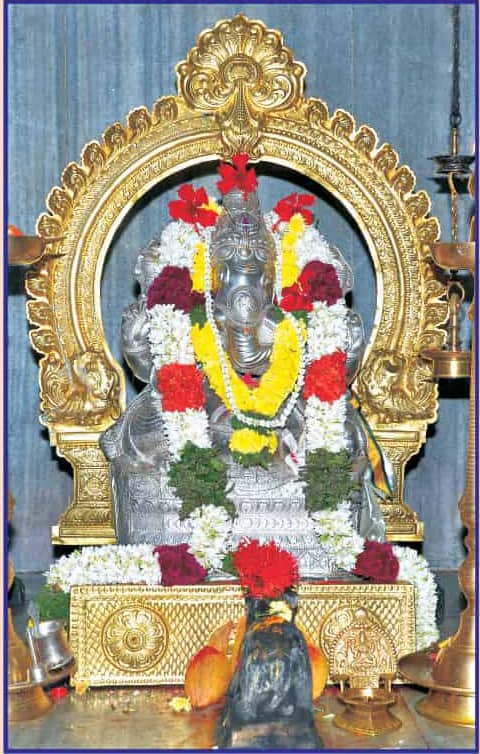 This is a Family Shrine maintained and worshipped by SWAMIJI and his MOTHER and his family members. Presiding Deity 'LORD SWAYAMBU SREE RAJA BALAMURUGAN' is a Swayambu (appeared on its own) believed to be the spirit of LORD Dhandayuthapani of Palani as indicated by Kanchi Maha Swamigal. The blessed idol has grown in size over the years. The Shrine is located in the National highway NH 47 leading to Coimbatore about 16 kms from Salem in a village called Rakkipatti.
The complex houses LORD BALA RAJA GANAPATHI Temple, NAVAGRAHAS besides the JEEVA SAMADHIS of the founder members (present Swamiji's Father and Grandmother). There is a separate pooja room where Lord Siva and Lordess Kamakshi are worshipped. The rituals are performed daily by ordained members of the family. The Shrine is open to public on regular days from 10.30 am to 1.30 pm and evenings between 6.00 pm to 8.30 pm.
Special Poojas are conducted on Krithiga nakshatra, Chaturthi and Pournami (full moon) days along with Annadhanam for large number of devotees (thousand numbers). Particularly the Shodasha Dravya Abhishekam, Alankaram and Japam Maha Sankalpam Sahasranama Pooja performed on Krithiga nakshatra day is very popular as prayers made by issue – less couples on this day with Abhisheka Cow Milk prasadam are blessed with children. The Vibuthi prasadam is believed to provide good health and cure the existing ailments. Devotees can seek the blessings and solace from Swamiji personally on Friday to Sunday every week evening 6.30 pm to 8.30 pm.
The prayers and the poojas are aimed at providing solace to the devotees and the well being of the humanity as a whole. The thoughts of Swamiji indicate the philosophy of the Shrine.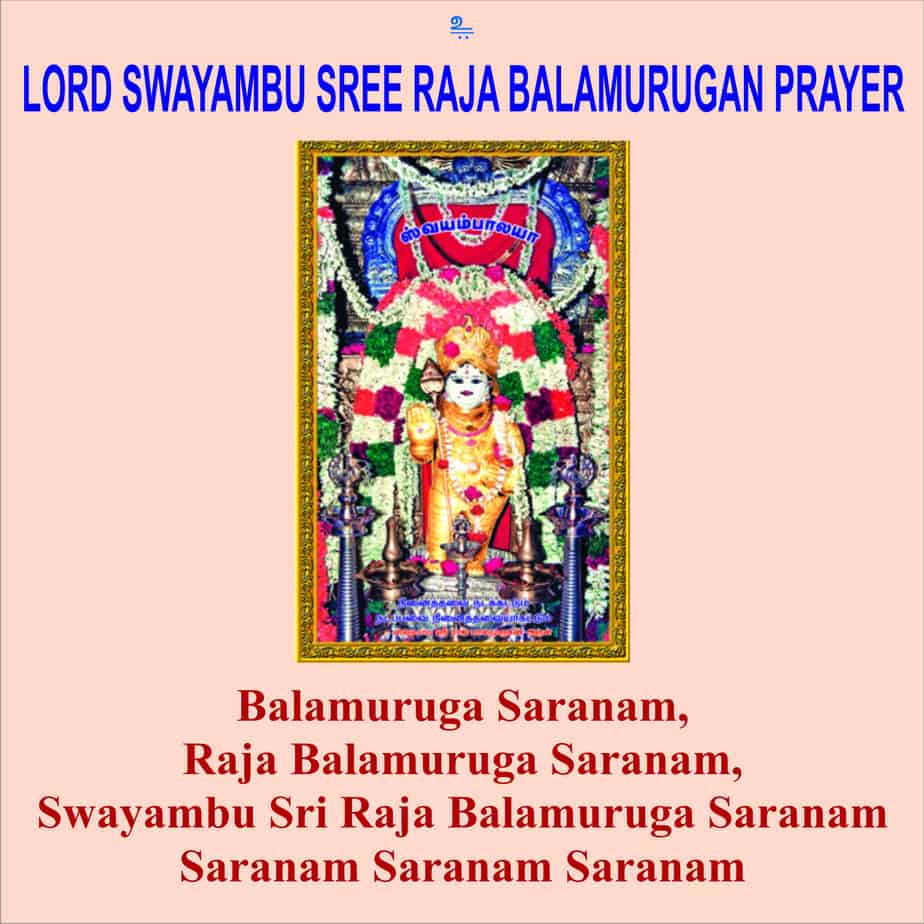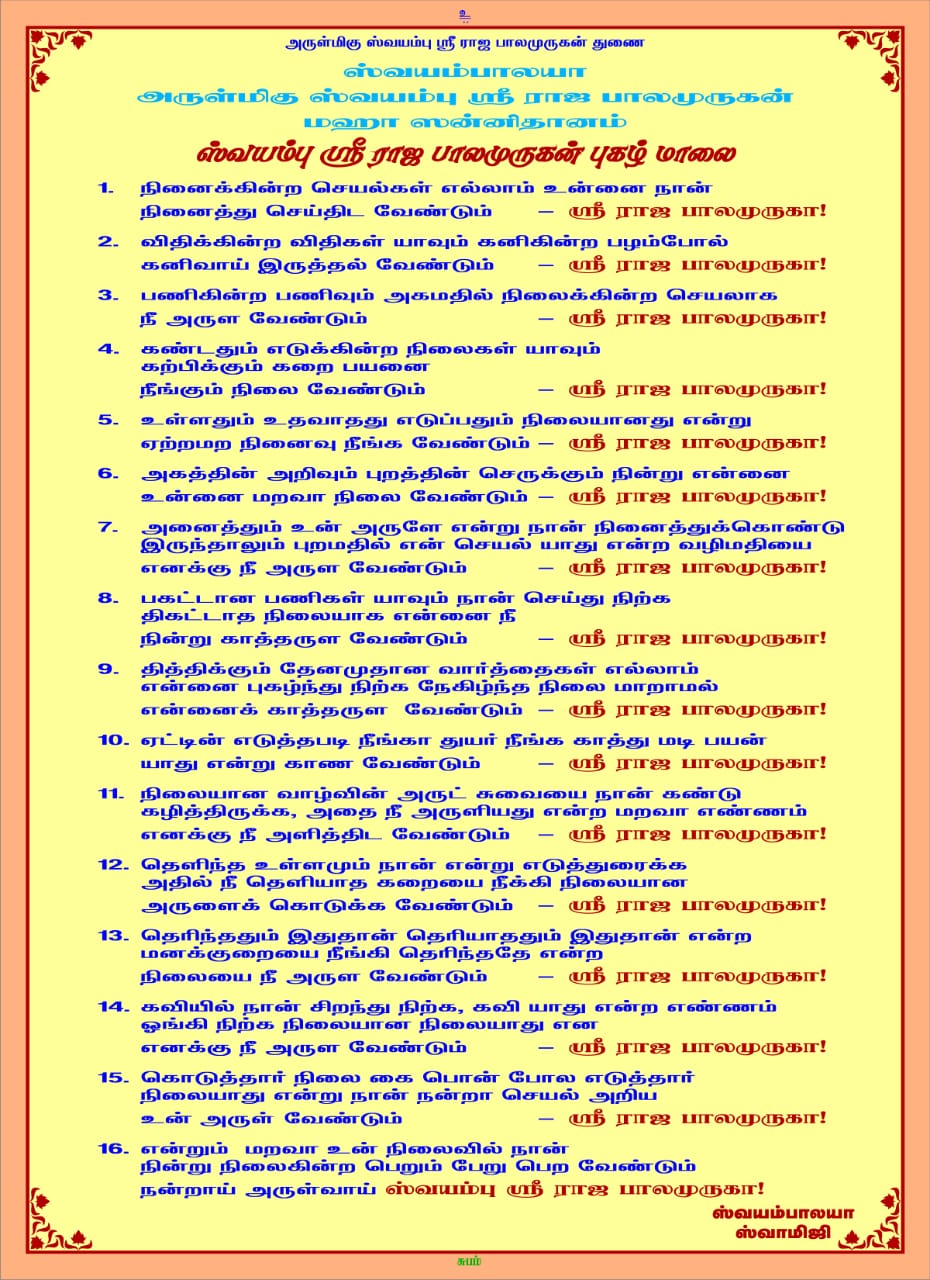 Lord Sri Raja Balamurugan Kavacham
Lord Sri Raja Balamurugan Ratha Ursavaa Song
37th Laksharchana Vaibhava – May 2019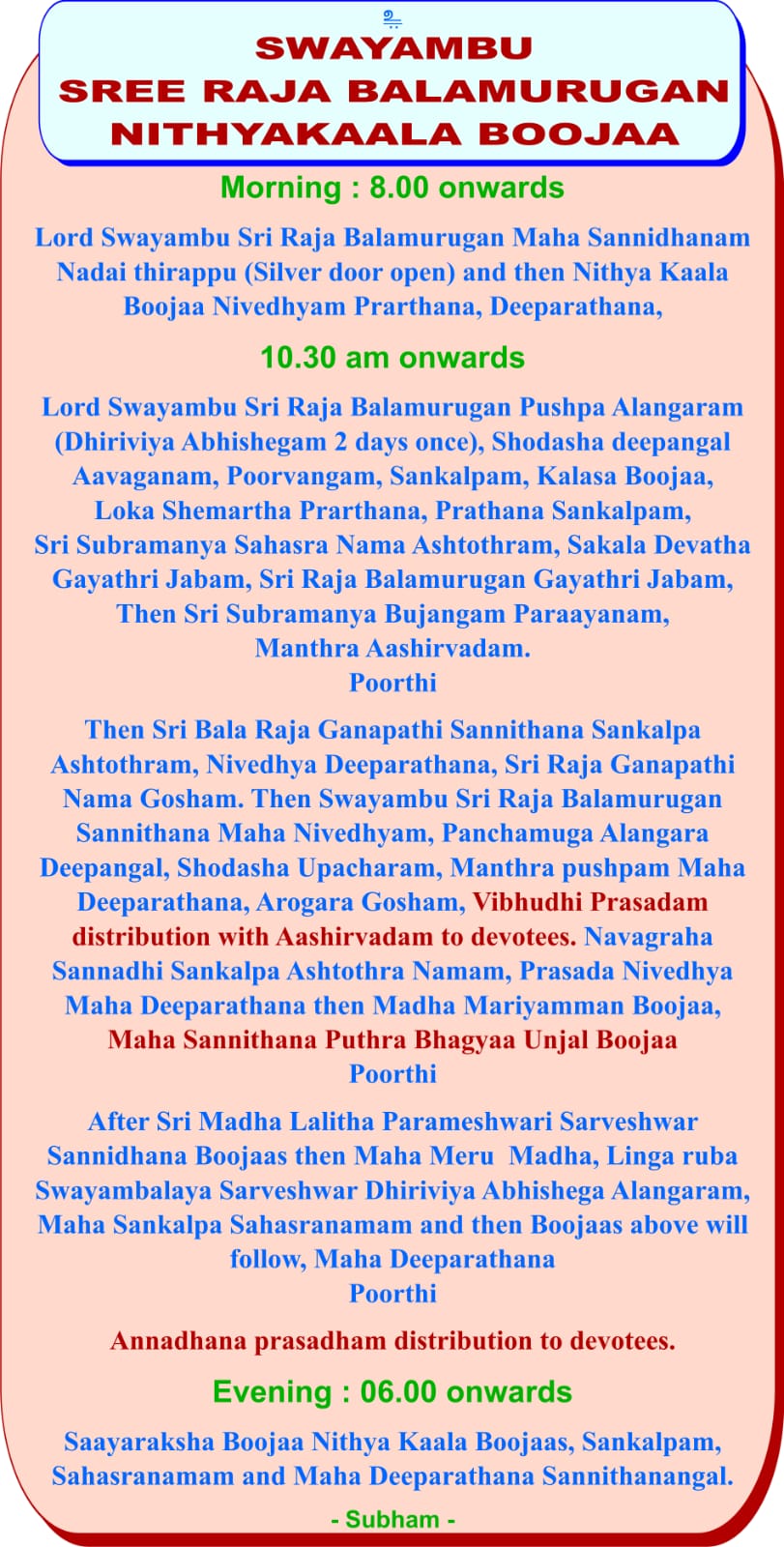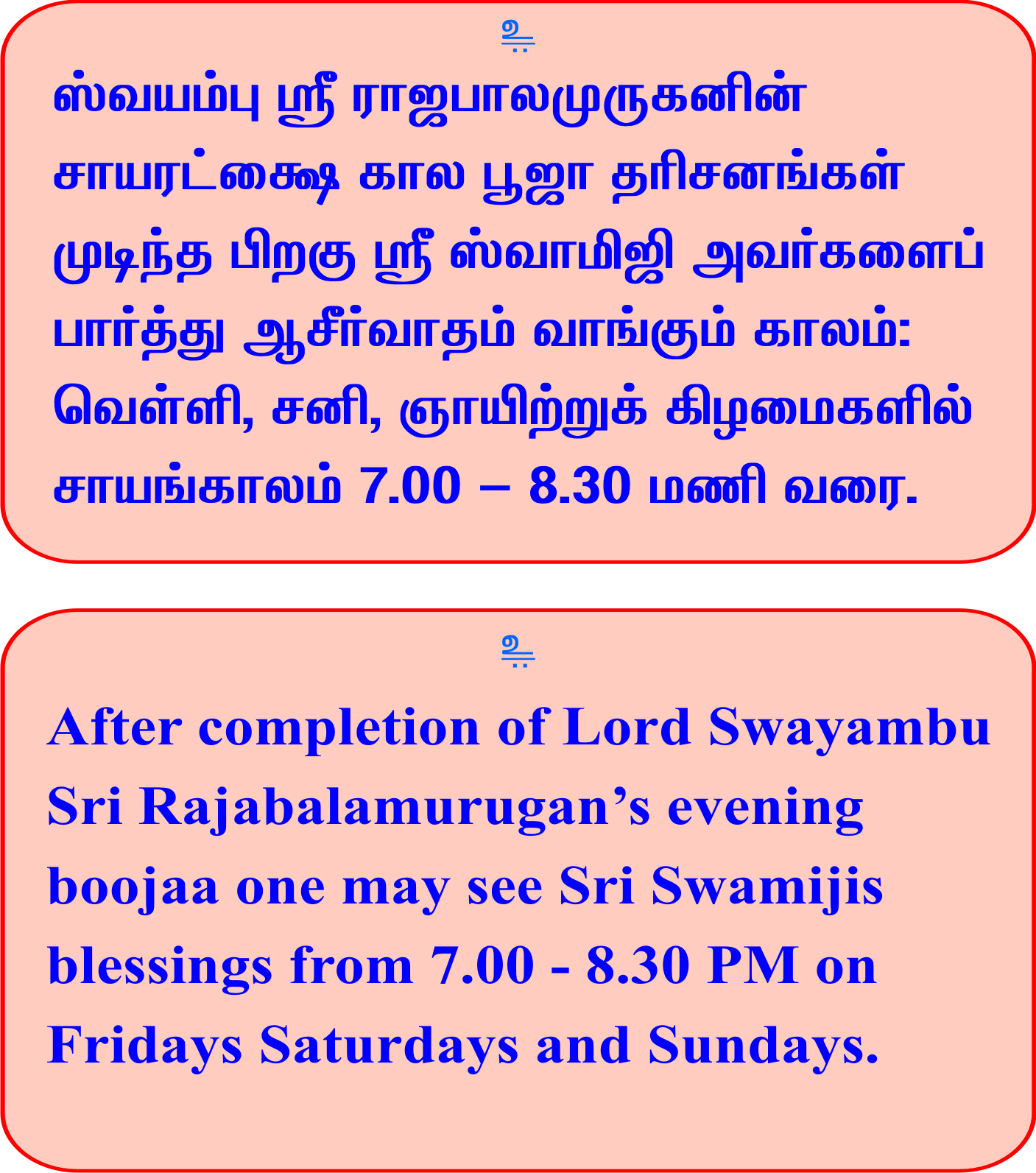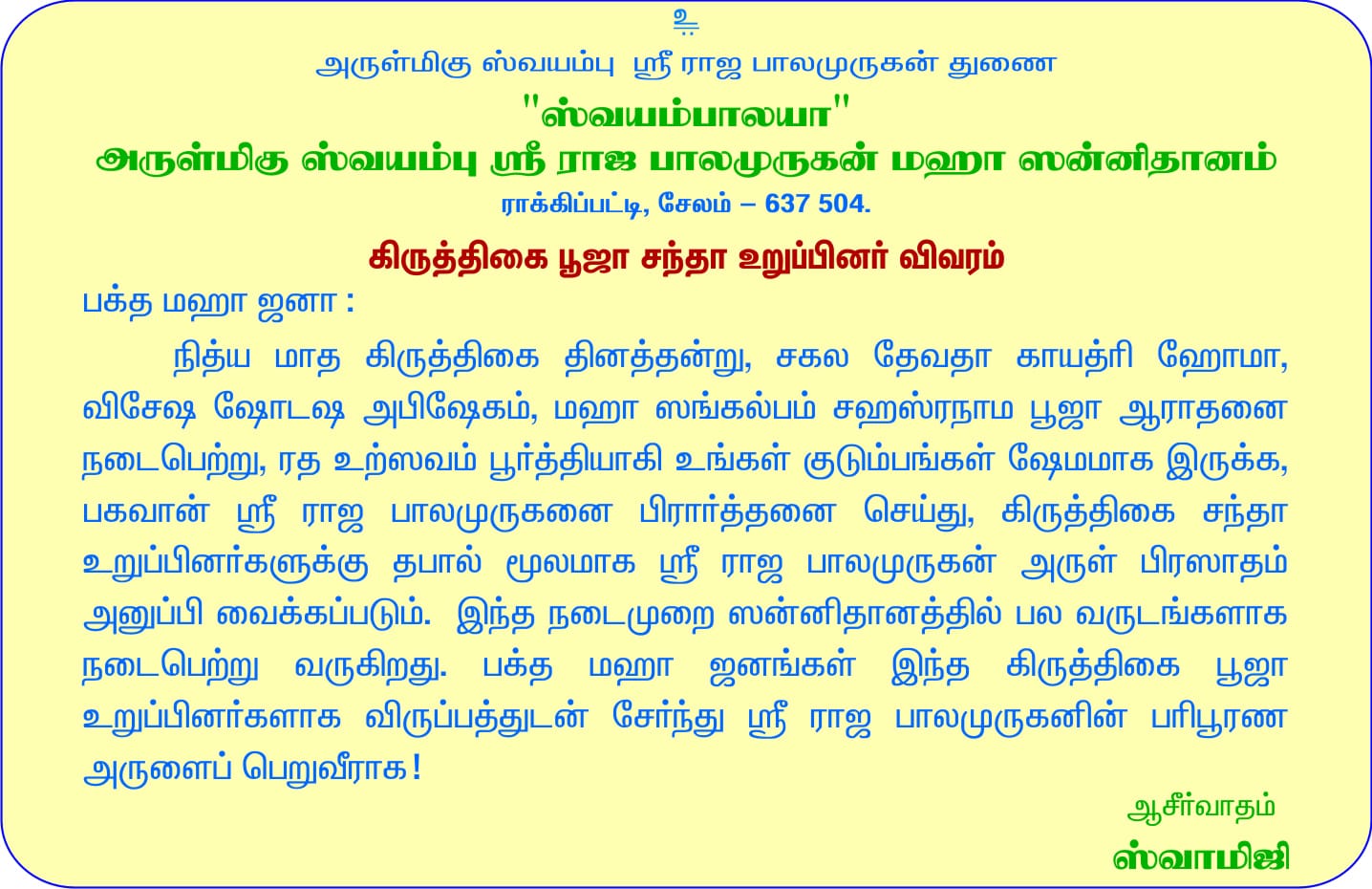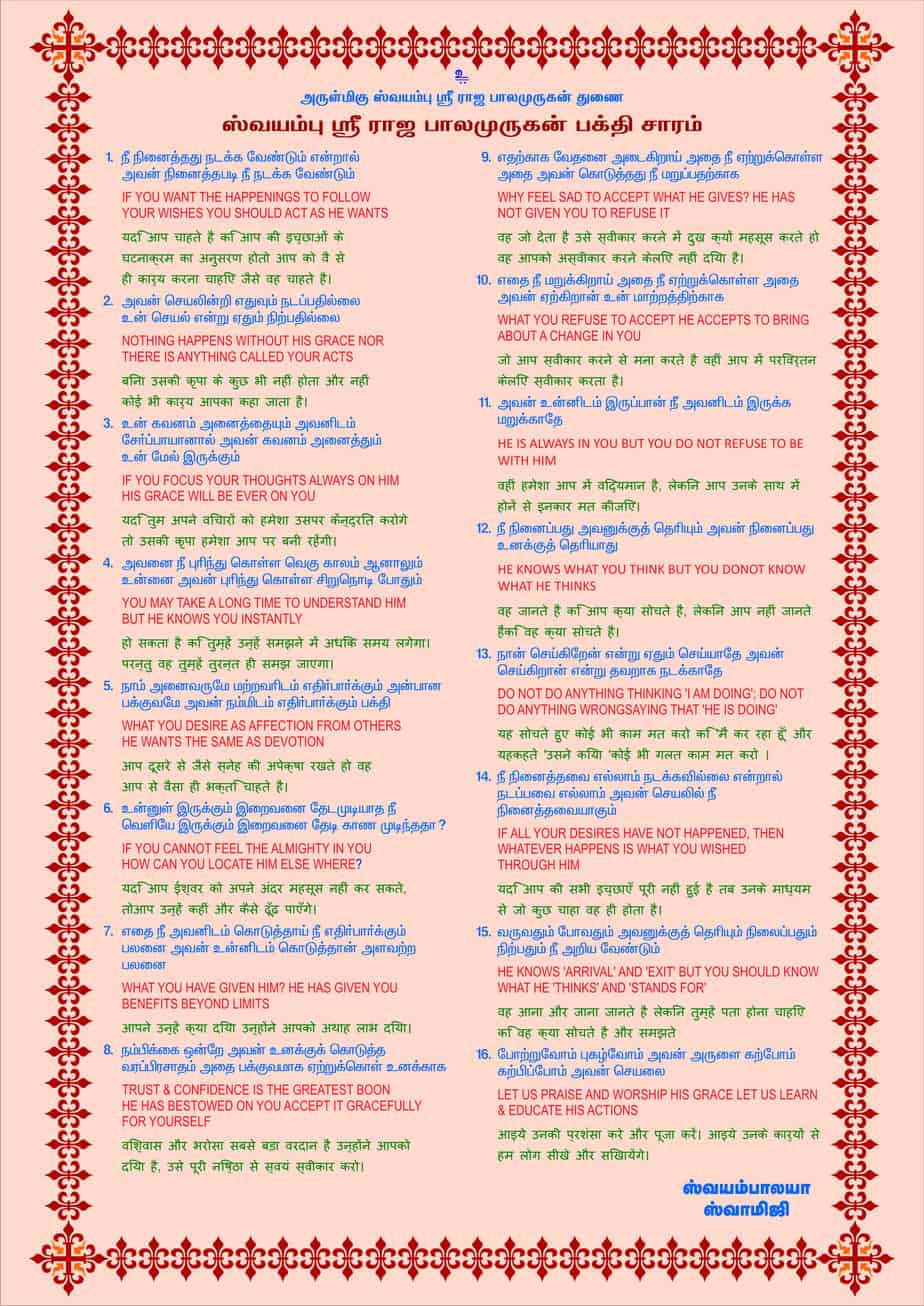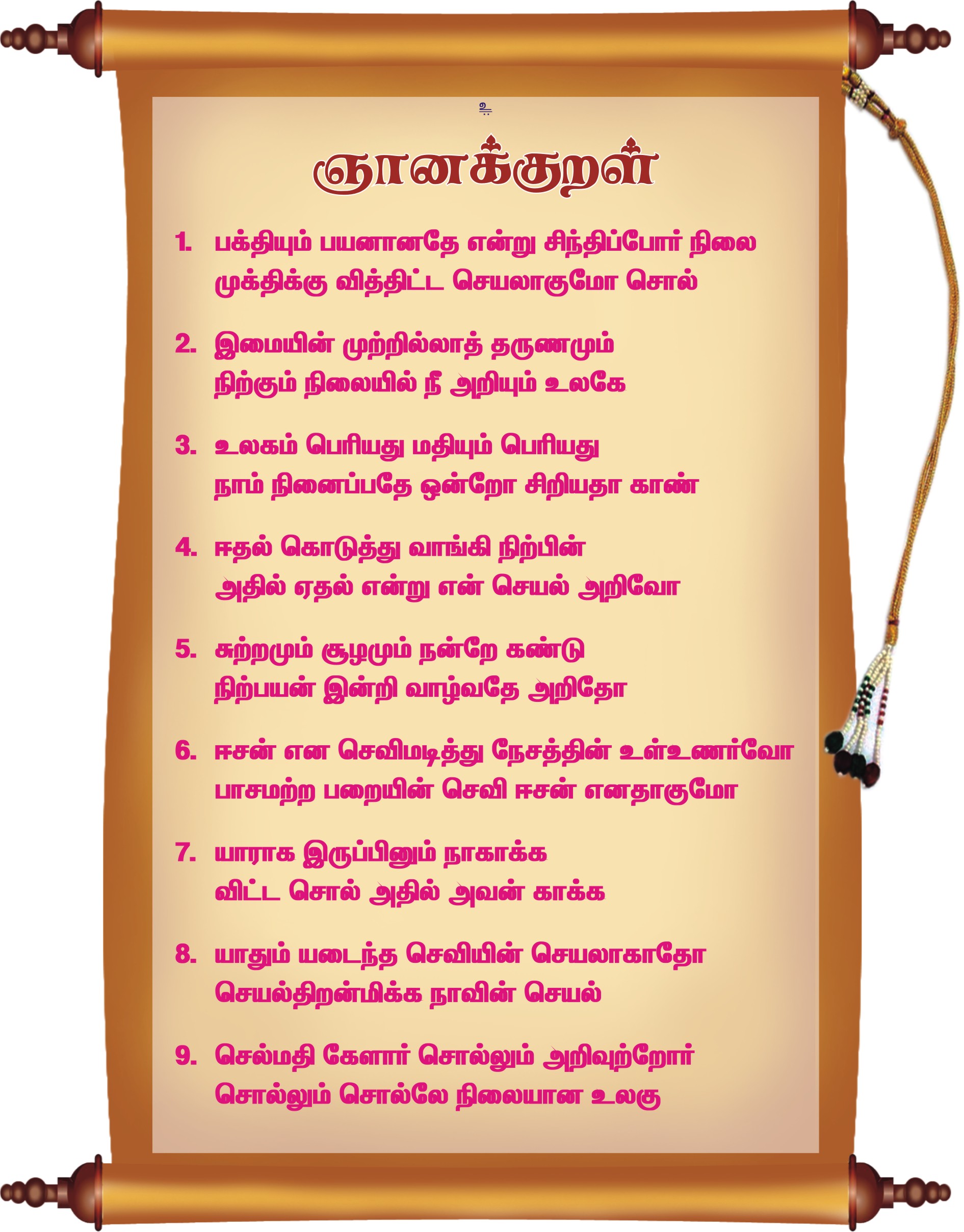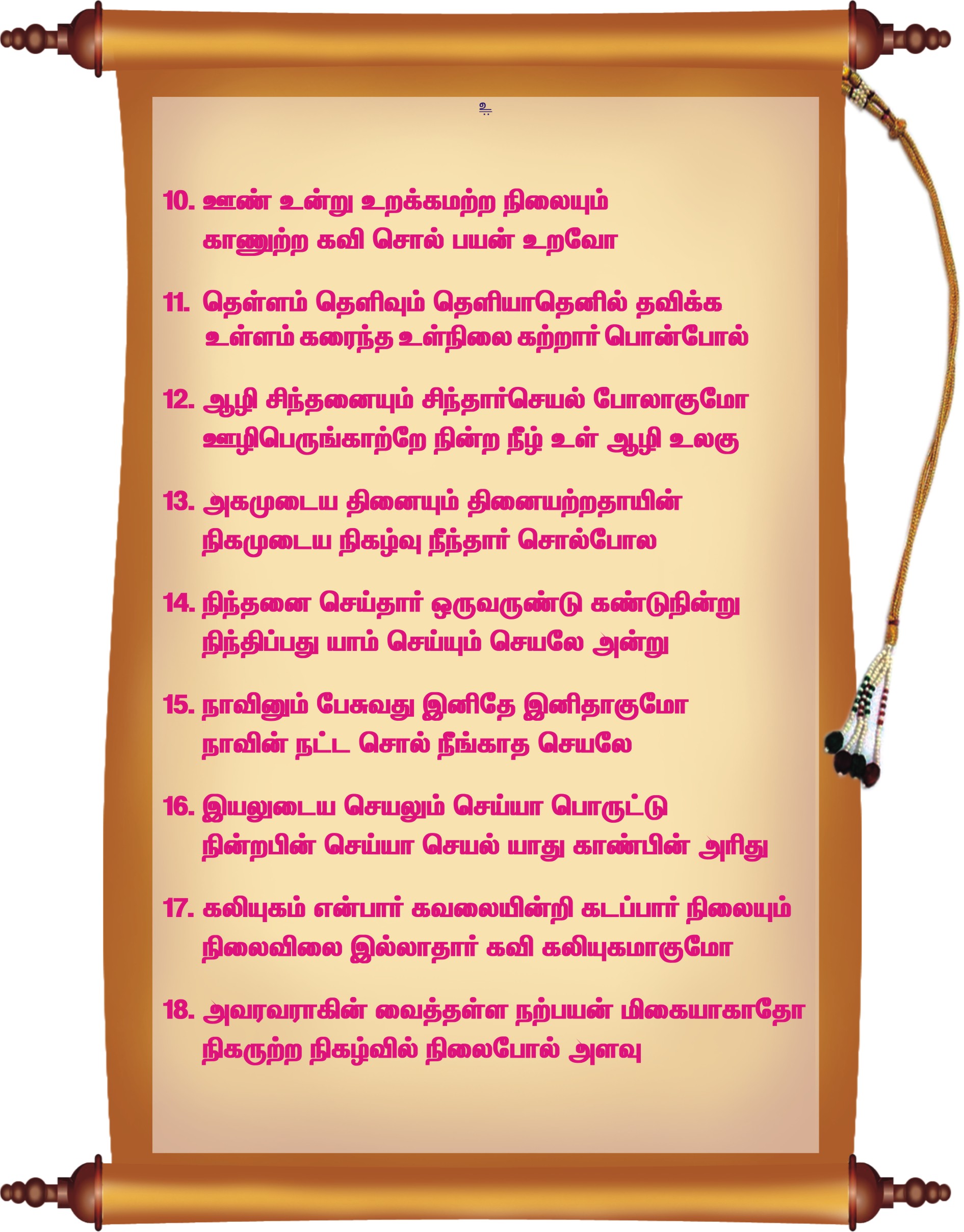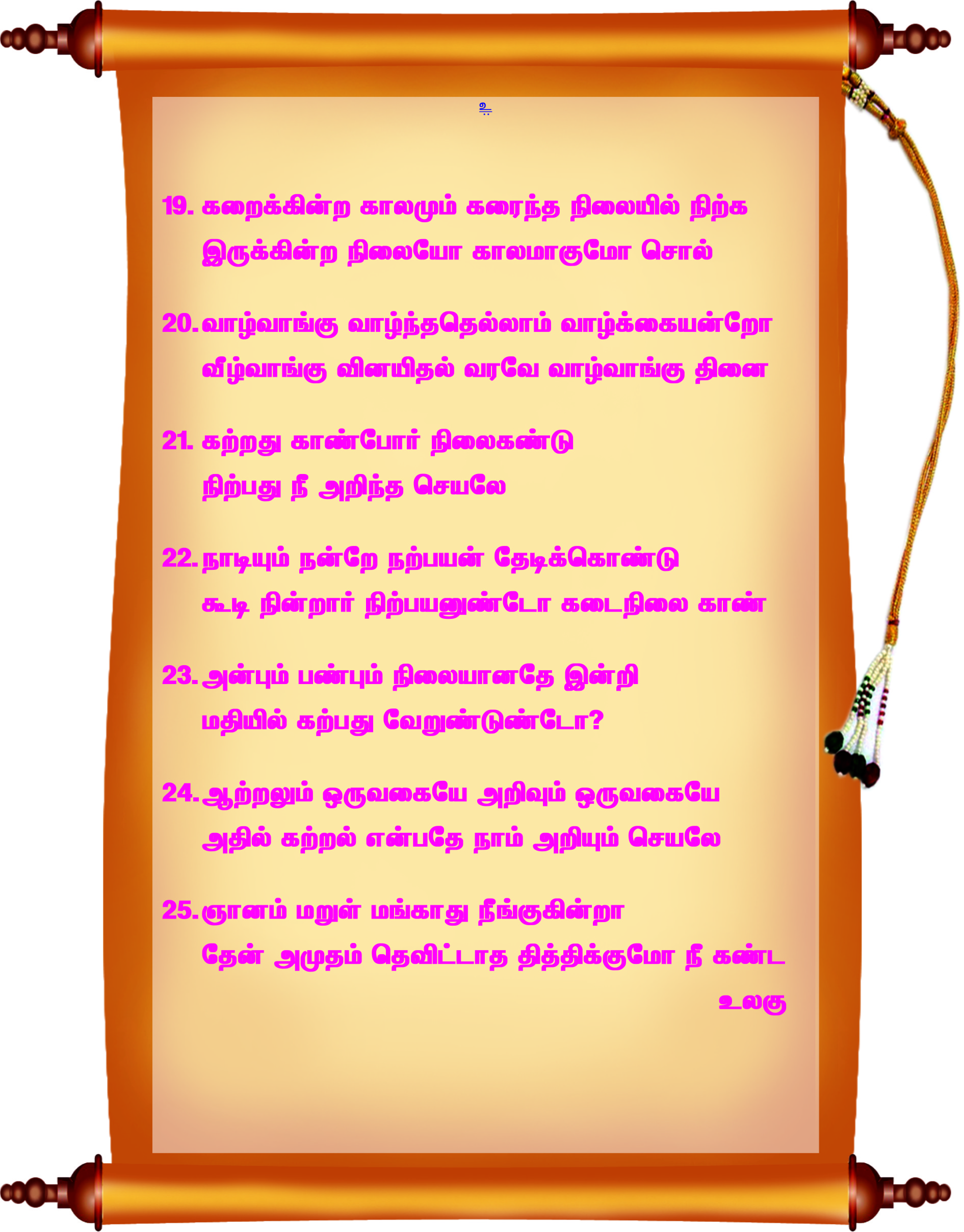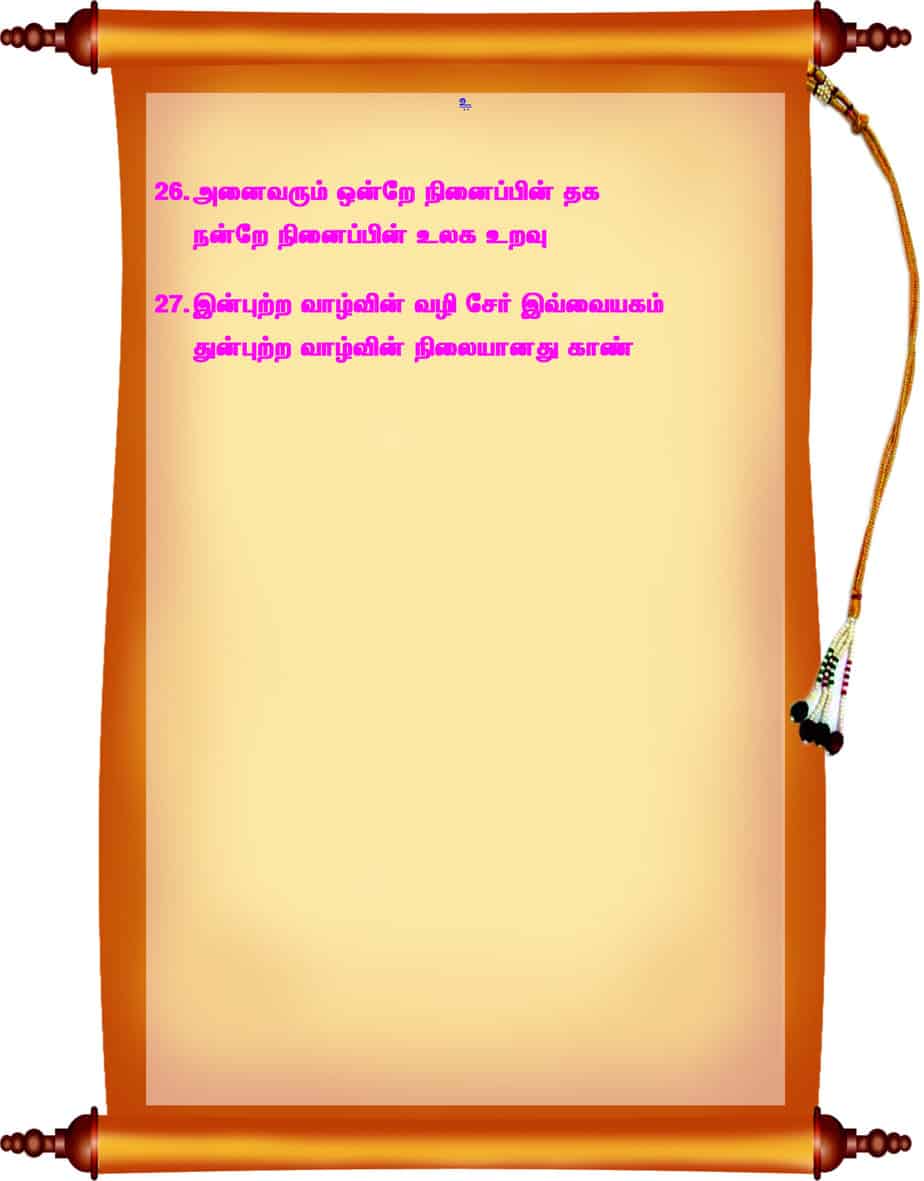 The Shrine is located at around 16 kms from Salem towards Coimbatore on NH-47. It is approximately 342 kms by road from Chennai, the capital city of Tamil Nadu.
Salem is easily reachable by road and rail from all parts of the country.
Address:
Swayambalaya Swayambu Sree Raja Bala Murugan Shrine
NH-47, Rakkipatti, Salem District
Tamil Nadu – 637504
We encourage our devotees to donate to the cause of the temple. Bank account details are given below. Once you transfer funds, submit the form with your details. Pooja will be performed on your behalf, and Prasadam will be delivered to an Indian address that you provide.
Bank & Branch : SBI, Salem Car Street Branch
Account Name: M Maragatham
Account number: 54010612852
IFSC code: SBIN0040348
Send Your Details Below After Making Donation

Swayambalaya Swayambu
Sree Raja Balamurugan Shrine
Visit the shrine to get blessings from the Lord and Swamiji